Philadelphia, 2001--21st Annual Sea Turtle Symposium
Ursula's Reflections
The 21st Sea Turtle Symposium is now a memory and a mixed-bag. Its theme was "Coming of Age" and indeed, it did. For me it was the Symposium where I came to view people differently. As with every other Symposium it was an opportunity to build new bridges, rekindle old friendships and hang out with "kin."
The annual Symposium is the meeting place of the world's sea turtle experts. It is a once-a-year opportunity to see so many champion biologists and conservationists all under one roof. Turtle Lords and Lordettes, PhD's, Movers-and-Shakers, the Great-Unwashed Turtle Huggers--all converge for a week of Turtle Talk.
A week of "lights."
At the end of each Symposium in the past, I witnessed lights having shone brighter than the year before. Not this time--for me there was disillusionment. For me there was a Coming of Age. I discovered that lights dim and tarnish. And a few wink out completely.
Still. There was much to celebrate and that is the focus of this report. About coming out better than when you arrived--about learning and growing.
I've struggled to find the one image that would say it all--convey what I experienced in Philadelphia and that odd odd Symposium.
And here it is--selected exclusively because I can't shake this image from my head. Dr. Nicholas Mrosovsky speaks while George Balazs (fighting off jetlag) listens intently. If it were a painting I'd call it "STARK CONTRAST."
And free of this image, I can now offer the rest of our photo album.
The Photo Album
All images Ursula Keuper Bennett or Peter Bennett
Click on the images on the left for a larger version.
| | |
| --- | --- |
| | Dr. Alberto Abreu Grobois, President of the Marine Turtle Specialist Group (MTSG) ensures his PowerPoint presentation is set to go. |
| | Dr. Rod Kennett answers a question from the audience after presenting his paper. Dr. Brendan Godley, session chair, checks his programme list for the next speaker. |
| | Dr. Eng-Heng Chan of the Malaysian Sea Turtle Research Unit (SEATRU) presents her paper. |
| | Charlie Manolis, Chief Scientist for Wildlife Management International representing Japan and Cuba. It was good to see Charlie again. |
| | J Nichols once again shines brightly at this year's Symposium, giving an oral on the turtles of Baja. |
| | Dr. Dimitris Margaritoulis of the Sea Turtle Protection Society of Greece reports on the conservation efforts in his area. |
| | Canada does have sea turtle researchers, and the cold waters off our Maritime provinces are the foraging grounds of King Leatherbacks. Michael James speaks eloquently on their behalf. |
| | Dr. Peter Pritchard was there. Here he offers some insight at Wednesday's MTSG meeting as Dr. Anders Rhodin and Michael White look on. |
| | A marvellous sight. A standing-room-only crowd sitting on the floor for a talk on leatherbacks by Dr. Scott Eckert. It reminded Peter and me of the Sixties peaceful sit-ins--minus the sweet smell in the air, mind you. |
| | Good friends! Sandra Sly and Jean Beasley of The Karen Beasley Sea Turtle Rescue and Rehabilitation Center. |
| | I learned a lot from Dr. Wyneken's talk but she did provide me with one conclusion that I'm proud to say I already figured out for myself! |
| | I missed the session on Migratory Species Treaties and stuff, so Peter videotaped it. Imagine my delight at the irony in this image. Matthew Godfrey and Ron Orenstein face off: two Canadians as they debate the finer points of sea turtle conservation. |
| | Ron Orenstein during Wednesday's meeting of the Marine Turtle Specialist Group. Colin Limpus looks on. Ron lives within a five minute drive from us and is essentially a "neighbour." We believe this makes Mississauga a hotbed of sea turtle activism in Ontario. The odd thing is we had to go to Philadelphia to meet Ron Orenstein! |
| | I learned that if Colin Limpus has a problem with his PowerPoint presentation he will stick around until it's fixed. Also, he leaves nothing to chance and checks every slide. I watched fascinated by the process. |
| | If images themselves can be favourite souvenirs then this one ranks second. Peter and Dr. Limpus problem-solving PowerPoint. Yessir, AV is a cool place to hang out! |
The Eyes Have It
Symposia are intense events, so MANY presentations, workshops, seminars, discussions that your brain gets full. By the end you're all turtled-out.
And that's when the MTSG meeting is. Speakers came and went providing reports on their ocean area. It was about this time I realized I hadn't a single image of George Balazs (NMFS Honolulu) so I moved to the front and angled myself into position.
And then I watched the room and the sea turtle people. When you get turned on to observing sea turtles you just don't ever really stop observing. You just kind of naturally do it. And because our paper this year was about turtle eyes, I zeroed in on the eyes of the sea turtle people.
I scanned the room fascinated.
---

Karen Eckert's eyes shone with dedication and purpose.

---

56K JPEG

---
---

Colin Limpus--eyes fiery with intellect and vision.

---

64K JPEG

---
---

Jack Musick and Marydele Donnelly--eyes on the future.

---

66K JPEG

---
---

Laura Sarti--eyes that miss nothing.

---

38K JPEG

---
Which leads to my favourite image, from Wednesday morning's meeting of the Marine Turtle Specialist Group (MTSG): the last pair of eyes. Eyes that have watched over Hawaii's sea turtles for almost thirty years now. And on this Philadelphia morning the brain behind those eyes was fighting off jetlag--a five hour time difference. The eyes should be closed and asleep. Instead, George was busy taking notes.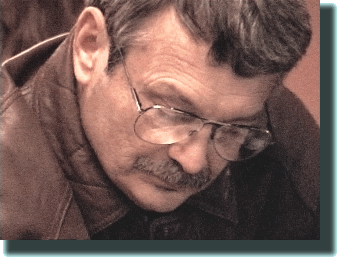 ---
George Balazs--eyes ever vigilant.
---
55K JPEG
---
For Peter's comments, see Turtle Happenings.
---

Turtle Happenings

Turtle Trax Home Page
Last modified 01/03/03
Send comments or corrections to honu@turtles.org