Kauila: Turtle Guardian of Children
New Monument at Punalu'u Beach, Big Island, Hawaii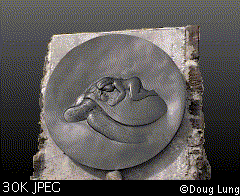 This image of the Punalu'u Turtle Monument is based on a photo that was kindly sent by Doug Lung, who went to a lot of trouble to get it to us. For all your efforts, Doug, we say "Mahalo nui loa."
On November 25, 1995, turtle lovers in Hawaii showed how important sea turtles are to them. They put up a stone monument at Punalu'u Beach on the Big Island of Hawaii. The monument honours Hawaii's sea turtles. It also honours the "Legend of Kauila."
According to Hawaiian legend, Kauila was a turtle with special power. She could turn herself into a young girl. The people of Ka'u loved Kauila because her spring gave them drinking water. They loved her even more because during the day, Kauila took human form and watched over their children as they played along the shoreline of the bay. She did this because she, too, liked to play.
Kauila kept the children safe.
Punalu'u Beach is a beautiful cove of black sand. There are many green sea turtles there. These turtles are tame and friendly. They often swim close to children playing and swimming in the water. This makes the children really happy.
Turtle Trax congratulates the people of Ka'u. They have done something wonderful for their beautiful and very special turtles.
---

Helping Hands: The Rescue of Kauila

Kidz Korner

Table of Contents
Last modified 99/11/27
Send comments or corrections to webmaster@turtles.org