Huffy, the Turtle Who Won't Give Up
as told by Jean Beasley
The following story is from Jean Beasley of the Topsail Turtle Project, Topsail Island, North Carolina. It is a great story about the way many people worked together to save the life of a terribly injured turtle. They named her Huffy for two reasons: the young man who found her was named Brent Huffman; and after her first round of surgery they had trouble getting her to breathe, and you never heard such huffing and puffing as they tried to do it for her!
In mid-August, Huffy was found floating near the mouth of a small creek that empties into the Sound between Topsail Island, NC and the mainland. She had been badly injured, apparently by a boat.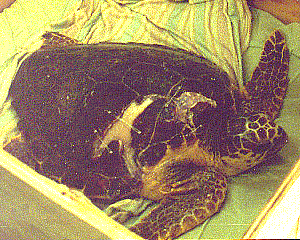 When she was found, Huffy's carapace was so badly broken that chunks of shell were just hanging on by bits of skin. As she tried to swim or crawl, the chunks of shell flopped and banged together. It was hard to believe she was still alive, and we had little hope that she would make it through the night. We didn't know Huffy very well then.
Just in case she might be alive the next day, I called Dr. Andy Stamper, a vet at North Carolina State University. Andy has always given his time generously. He promised to have the "Turtle Trauma Team" ready.
We gave Huffy a needle to fight infection, tried to steady the pieces of shell, and did a few other things to try to help her. That night, Huffy lay wrapped in towels wet with salt water and strapped into a carrier. I checked her every second hour. Each time I truly did not expect to find her alive, but that head would come up and she would give a "huff."
Early the next morning, three of us from our Turtle Emergency Response Team were on our way with Huffy to Raleigh and the Vet School. Dr. Stamper had them ready and waiting for us. Eight hours later, Huffy had become the "erector set" turtle, with surgical steel screws, wire and a plate.
As the Vet students and other members of the staff stopped by to check on her throughout the day, each was amazed at her will to live. That evening, we were on our way back home with Huffy. Early the next morning we placed her in a tank with water flowing through it. She seemed really happy to be in water, even if it was that shallow.
The vets had told us that one of the problems would be to get her to eat on her own. Severely upset turtles quit eating. Most often, they have to be forced to eat for a while. Not our Huffy!
As she was placed in the tank she saw a piece of plastic pipe sticking out just a bit. She went paddling over and tried to bite it! I called for food. Immediately, she started to eat... a lot! She was starving and underweight but began to make that up quickly.
Huffy continued to do well. She was getting vitamins and medicine by mouth. Every other day, we cleaned her wounds. We also gave her new bandages and a needle. We began thinking that she just might make it.
Then came Hurricane Fran. Early on the morning of September 5, everyone on Topsail Island was told to leave. Of course that didn't mean sea turtles, but I wasn't going without Huffy and Lucky, another turtle in our care. I got both turtles and their tanks off the island by noon. Fran turned out to be much worse than anyone expected. Topsail Island took a direct hit. There was major damage, both on the island and off. It was obvious that things would not be good for turtles. There was no water, power, or phones. It looked like it might stay that way for several weeks. (It did!)
I called Ruth Boettcher, Sea Turtle Coordinator for the North Carolina Wildlife Resources Commission. They issue our permit to work with endangered and threatened species. Could she help? The next day she arrived to rescue both turtles. Lucky was to be released (this had been planned for mid-September so he was ready) and Huffy was to go to a tank at the National Marine Fisheries Lab in Beaufort, NC. Most of Huffy's care from that point on fell on Ruth, but we still went up to feed her and give her medicine.
Unfortunately, Huffy's condition got worse. She, too, became a victim of Hurricane Fran. Her blood test showed she had an infection. Parts of her broken carapace were dying. We decided that we had to remove the dead pieces. We realized that after her operation, she would need perfectly clean water conditions to give her a chance to get better.
The water around Topsail Island after the storm was very bad. Imagine all those sewage tanks that had been under water. We also have a problem with spills from hog lagoons after the kind of rain we had with Fran. Add to that all the toxic garbage in the Sound from damaged houses and mobile homes. Sea World to the rescue!
Sea World in Orlando, Florida, agreed to take Huffy. Now we just had to get her there. If all else failed, we planned to drive her down, but we wanted as little stress as possible. Then the next rescue fell into place. We learned from Commander Bob Morrison of the United States Coast Guard Air Wing that they would be making a flight to Florida. Could Huffy hitch a ride? Sure thing!
Stuart May and the staff at Pine Knoll Shores Aquarium built a box to move Huffy in. The big day came. Huffy was operated on by Dr. Gary Spodnik, assistant professor of Surgery and Dr. Greg Lewbart, assistant professor of Aquatic Medicine, with Dr. Andy Stamper giving a hand as well. These people generously give their services free for our sea turtles.
After the surgery Huffy had vet students sitting with her around the clock. Everyone was in awe of this turtle and her will to live. On Thursday, a group of us who are proud to call ourselves Huffy's friends got together. We were waiting for her to be taken to the airport where the huge C130 Coast Guard plane was due to pick her up. Commander Morrison, Lt. Commander Pearson and their crew were right on time. Huffy was loaded up and away she went with her fans waving good-bye. Huffy's leaving from Raleigh and her arrival in Orlando was filmed by NBC, so we were able to rush home, switch on our TVs, and see her land in Florida. We saw the Sea World folks pick her up, and take her to Sea World where she looked great!
We will get updates on her progress each week. The latest report is that they are very pleased with her progress. They feel there is a good chance for her to go back to the wild. And oh, they said they were absolutely amazed when she immediately began eating. Didn't surprise me a bit!
So many people had to come together to give this turtle a chance at life, and I think I speak for us all when I say it was our privilege! What a turtle!
---
Update on Huffy (97/07/26)
Jean Beasley wrote to us this week (July 26) with good news about Huffy, the turtle that wouldn't give up. On July 21, Huffy was released back into the wild. Thanks to the great work of the Topsail Turtle Project, Sea World of Orlando, the vets of North Carolina State University, and others too numerous to mention here, Huffy has a chance to be a real sea turtle again. Good luck, Huffy!
---

Kidz Korner

Turtle Happenings

Table of Contents
Last modified 99/06/05
Send comments or corrections to webmaster@turtles.org